Are you a golfer who is struggling with plantar fasciitis? If so, you may be wondering if there are any golf shoes that can help alleviate your symptoms. In this blog post, we will discuss the best golf shoes for plantar fasciitis and provide you with a few recommendations. Keep reading to learn more!
Best Golf Shoes for Plantar Fasciitis in 2022
Plantar fasciitis is an extremely painful condition that can ruin your day on the links. Whether you are playing a competitive round of 18 holes with friends or simply taking to the links with family, it's important to take care of your feet because you need them in order to move around the course. If you have plantar fasciitis, it can be excruciating to walk around but wearing certain shoes and insoles designed specifically for golfers can offer relief while enabling you go play pain free.
Being on your feet for long time can be such a pain especially if you suffer from Plantar Fasciitis; that's why you need the best golf shoes for plantar fasciitis.
Something that also comes in very handy when you suffer from plantar fasciitis is Plantar Fasciitis Posterior Night Splint. This night brace helps to keep the ankle in a neutral position while stretching the calf as well as the plantar fascia as one sleeps. This gentle stretch helps in reducing inflammation, muscle contracting as well as the pain that comes with it.
Looking for this pair of shoes can be quite hard as much as it is crucial. There are quite a number of golf shoes brands that sell these kinds of shoes which can give the golfer a little headache trying to decide. Below are some of the best golf shoes for plantar fasciitis we have picked for you;
---
The New Balance Breeze golf shoe is a must-have for every golfer who suffers from plantar fasciitis. The shoe is designed to provide superior comfort and stability, which is essential when you're dealing with this condition. The Breeze has a lightweight construction, which makes it easy to move around the course. And, the breathable mesh upper ensures your feet stay cool and comfortable all day long.
The Breeze is a very soft shoe, which makes it a good choice for those suffering from plantar fasciitis. The shoe's designed specifically to lessen the discomfort that comes from running, jumping or walking for hours on end, especially when you're playing golf. This is because the foot strikes the ground with less force when wearing this type of shoes/boots compared to regular ones. In addition, the foam cushioning in the heel absorbs shock and reduces pressure placed on your heels and toes – another source of pain associated with plantar fasciitis.
I decided to take these shoes out for 18 holes on our local course. The Breeze golf shoe performed beautifully, giving me support on each shot without ever feeling too heavy or restricting my swing.
After a long day of shooting 100's from the sand traps and carrying water hazards , they still look great and give me confidence when I step onto the tee box .
I definitely recommend these shoes if you're looking for an edge in your game and enjoy lightweight and breathable equipment.
---
I have been a huge fan of Skechers shoes for years now, and their golf shoes do not disappoint either. Not only are they comfortable and stylish, but they will also help your game improve by utilizing the GOGA MAX technology insole that makes you feel like you're walking on clouds while playing.
The Pivot Spikeless golf shoe by Skechers is the absolute must have for plantar fasciitis sufferers. Seriously, these shoes will be like walking on air when you play 18 holes with them on.
This shoe is specifically designed to keep your feet comfortable while alleviating the pain at the same time.
What really makes the Skechers Men's Pivot Spikeless Golf Shoe stand out from other orthopedic golf shoes is their custom fit insole: The Goga Max insole is ergonomically designed to provide comfort, stability and shock absorption thanks to its deep heel cupping system.
The deep heel cupping system cradles your heels with soft padding. This helps take pressure off the plantar fascia ligament located at the bottom of the foot. You can also find this feature on many other Skechers shoes that are not specifically for golfers.
The spikeless design outsole is another good choice for those who want to play golf with PF, which means less irritation and pain at the bottom of your foot from metal spikes. The rubber outsole helps prevent slipping on a wet surface, so it will be easier to maintain balance and stability when you're walking up and down the green.
---
When it comes to plantar fasciitis golf shoes, you want something that is going to be comfortable and provide you with the support you need to make your best shots. That's why the Under Armour Men's Tempo Sport 2 Golf Shoe is such a popular option. It features a breathable, clarino microfiber upper, as well as a 2-year warranty. Additionally, the lacing system is light weight and helps to keep your feet in place.
You also don't want to be bogged down by extra weight while playing through plantar fasciitis so choosing lighter shoes is probably best. Many people assume they need heavier shoes because they think they are more support, but not in this case. There are many options out there but the Under Armour Men's Tempo Sport 2 Golf Shoe is definitely one of the best if you're looking for a breathable shoe that's light weight and very comfortable.
The next important feature that I would like to cover is warranty. Athletes tend to go through shoes at a higher rate than most due to the high impact of their sports. When you pair this with a high price point, it is important to make sure the shoes you are looking at have a warranty. These under armour shoes are no exception!
These golf shoes come with a two year warranty so you know they will be able to handle some wear and tear! With the warranty being valid on manufacturing defects, you know if something does break, the company will have your back. This is great for making sure that you are getting a quality shoe that can stand up to extended use. It also makes these shoes worth the price.
---
Adidas has made it possible for any golfer out there to play in comfort by releasing their new Adidas Adipower 4orged S Golf Shoe. The design team at Adidas took all of the essential features from previous models and incorporated them into this shoe, making it an excellent choice for any amateur golfer who cares about their game as well as their feet.
Adidas understands what great golf requires and made sure this shoe was tailored to fit the sport perfectly by using high-performance materials and construction techniques. The Adipower 4orged S Golf Shoes provide arch support, ankle stability, comfort, and an outsole that provides optimal grip on different types of terrain.
The Adipower 4orged S golf shoe has a low-profile design that keeps your feet close to the ground. The Adipower 4orged S also comes with a forged microfiber leather and textile upper with a thin TPU film. It features Puremotion spikeless outsole with strategically placed adiwear traction which gives you superior comfort, grip, and stability while playing on different types of terrain. Another great feature is the Adipower's Flexible Bounce forefoot cushioning with responsive Boost midsole.
On to the next favorite thing about these shoes: Flexibounce technology! The technology allows the forefoot to move naturally for ultimate comfort, whether you're walking or swinging from the tee box.
The first time I wore them, it was like walking on air. They provided great cushioning and rebound along with flexibility which allowed for an effortless walk around the course. It took me a few holes to get used to this new bounciness underfoot, but after that, it felt awesome! After 18 holes of walking in these, my feet felt great. I was even able to hit the gym and do some deadlifts with them on afterwards, and I didn't have any issues at all.
---
Golfers with Plantar Fasciitis will love the ECCO Men's Biom Cool Pro Gore-Tex Golf Shoe. The contoured removable insole provides great arch support and the synthetic sole will keep your feet dry for all 18 holes of play. Pros include leather uppers, breathability and durability.
The ECCO Biom is constructed of breathable synthetic leather that is flexible, light, and durable. The flexibility of this material provides optimal comfort as well as excellent stability during all types of golf motions.
The lightweight design on these plantar faciitis golf shoes makes walking for an extended period of time on hot days much more bearable. The footbed of this shoe was specifically designed to reduce strain on the feet so that players can focus on their game without worrying about pain or discomfort.
This shoe is specifically designed to cradle your feet with the ideal biomechanical support, and also comes complete with ECCO's Biom Natural Motion technology which offers tremendous assistance in keeping your posture upright during physical activity.
One of our favorite things about this golfing shoe is the anatomically correct design that contours to the shape of your foot. Most kind for those who suffer from plantar fasciitis! The materials used in these shoes are high quality, meaning they will last a long time. They're also stylish and modern looking, which allows them to match with practically any golf attire that you'd like to wear!
---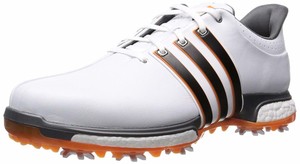 Adidas is a great brand and it equally makes great products that are exactly what a customer needs.
Adidas Golf Men's Tour360 Boost Spiked Shoe is the best golf shoes for plantar fasciitis. These shoes have been made with imported leather which means it is of great quality and the pair will last for quite a long time. This imported leather gives these golf shoes a nice matte touch.
The best thing about Adidas Golf Men's Tour360 Boost Spiked Shoe is their rubber sole which gives the player a good balance between friction and grip. Their boost-padding design gives the wearer a good feeling and it alleviates pain for people with plantar fasciitis.
Pros
They upper part is made of leather
They come in flexible size range
The boost padding concept ensures that the wearer's foot is cushioned
The cleats and nubs also ensure that the wearer's foot does not endure the pain of walking
Cons
This pair can be quite expensive
Your foot might experience some discomfort as a result of the flat arch
---
Men's Footjoy Freestyle Golf Shoes are a combination of light weight meshwork and water proof toughness. This combination also makes it stylish, breathable and it conveys solace to a wearer's feet. Men's Footjoy Freestyle Golf Shoes are the best golf shoes for plantar fasciitis as they give the wearer a mix of versatility and solace. The tongue-inset is a guarantee of extra protection to the highly affected areas.
The InnerSok framework also offers ample cushion for extra solace and help in the foot sole area where most people experience the pain. The additional thick engrossing 'Fitbed' with HeelLok also provides extra slip protection and prevalent solace.
Pros
It is slip resistant
It is water resistant
It offers extra cushion for comfort
Cons
It is not the best shoe for flat feet
It is a little pricy
---
New Balance Men's NBG2004 is one of the best golf shoes for plantar fasciitis. They are made from imported microfiber leather with the sole being made from synthetic material. The drop padded sole is light in weight and it gives lightweight padding while at the same time providing premium responsiveness to the golf footing.
The water proof microfiber leather makes it safe to be worn even on those wet golfing days. The spikes are removable and together with the outsole, they give the wearer flex and soundness with regular feet movement.
Pros
They are of average price
They are waterproof
They have padded soles
They have removable cleats
Cons
As a result of changed style, the spikes might end up pinching sensitive feet
---
Footjoy DNA Golf shoes are the best golf shoes for plantar fasciitis because they have been made with chromoskin leather on the upper side. This leather makes the shoes feel super light while still maintaining the durability the golfer needs. These shoes have a new stability chassis that's been engineered specifically for stability and comfort.
Footjoy DNA Golf shoes are the best goes shoes for plantar fasciitis; the fine-tuned foam fit bed gives the underfoot excellent comfort not to mention heel support. The 3D foam collar 2.0 goes over the ankle to give more support, comfort not to mention great fit.
They have a synthetic sole; the outer sole provides the golfer with lightweight stability as we well as performance. Footjoy DNA Golf shoes also offer great traction.
Pros
They chromo skin leather used to make Footjoy DNA Golf shoes is supple, lightweight, 100% waterproof and durable
They offer great traction
They are extremely comfortable
They are breathable
They have an athletic design with a snug fit tongue
Cons
The sizing a bit off
When the tongues shift to the side, they become a little uncomfortable
---
Sketchers women's birdie golf shoes are the best golf shoes for plantar fasciitis. They have been made with a mesh textile material not to mention a special synthetic sole that makes them flexible and flexible. These sketchers are 100% water resistant with the outer sole being made with durable GPU grips.
These shoes are ultra-lightweight with the upper part having been made with fused material that gives them more flexibility. These shoes provide people with plantar fasciitis with extra cushioning using the 5gen cushioning combined with Goga max insole. These are the best golf shoes for plantar fasciitis for women.
If you are worried about enough arch or heel support, then these shoes will not disappoint because they have been made specifically for plantar fasciitis. Skechers womens birdie shoes are the best women golf shoes for plantar fasciitis.
Pros
They are water resistant
They have great traction all thanks to the goimpulse outsole and traction control
They are greatly cushioned thus giving the wearer great support and comfort; they have 5GEN cushion midsole
They are light in weight
They have a TPU grip outsole which offers great traction
They have a 1¼ inches in built sole which is great for arch and heel support
They are spikeless and responsive
Cons
---
Callaway Men's TRX golf shoe are the best golf shoes for plantar fasciitis. These shoes have been made with synthetic materials and leather. They have also been equipped with opti-repel, waterproof microfiber leather not to mention dura-rubber outsole
The best thing about Callaway Men's TRX golf shoe is that the midsole has been incorporated with opti-soft EVA for maximum comfort; slim lok cleats help in providing better control. The opti-vent meshliner gives the wearer excellent breathability such that their feet remain cool and dry no matter the weather.
If you are looking for the best golf shoes for plantar fasciitis, Callaway Men's TRX golf shoe is exactly what you are looking for.
Pros
They are water proof all thanks to opti-repel microfiber leather upper
The inside of the shoe is soft and comfortable
They have champ slim lok cleats that give the golfer ample traction
They have a 5mm EA sock liner which provides the golfer with maximum comfort
Cons
Not water resistant as indicated
They are a little narrow
You can also get some supplements to alleviate the pain even as you get the best shoes for plantar fasciitis for comfort.
---
Best insoles for plantar fasciitis
The best golf shoes for plantar fasciitis are amazing but sometimes you need some extra support. Having the best insoles for plantar fasciitis might just be the next best thing.
So why should you get golf specific insoles? Many people have tried general arch support inserts or other types of orthotic inserts but nothing delivers comfort and stability quite like true golf insoles.
The best golf insoles for plantar fasciitis will support your arches, provide comfort and stability while preventing overpronation to reduce the pain associated with the condition. Finding the right insole can take time but if you follow this guide it should help you find a product that is right for your needs.
The Superfeet Green premium insole is a high-quality product that features a deep heel cup which ensures proper weight distribution so you have maximum control over your movements around the course. It has a cushy layer on top which provides extra comfort and shock absorption while an additional impact zone under the arch enhances foot stabilization. These inserts work great right out of the box due to their simplicity and the fact that they are flexible and quite comfortable right away.
These insoles will last you for a long time as well because of their quality build and design, but if you do need to clean them simply wipe them down with a damp cloth and let them air dry. Unfortunately, these insoles can be pretty expensive so if you're on a limited budget it might be better to go with another option on this list. However, they do offer excellent stability which is something other products lack.
---
Price: $$$$
If you have foot problems caused by overpronation or poor arch support, then these Superfeet premium golf insoles should significantly reduce your pain while playing. They feature an anatomical shape with a deep heel cup for stabilization and shock absorption.
These insoles are great for alleviating pain from plantar fasciitis because of the way they hold your feet in place to improve stability, but the negative is that it can take a bit of time to get used to their feel. Some people have issues with the lack of airflow in these insoles which causes them to overheat so if you do buy them make sure you give yourself enough time to break them in before playing 18 holes.
---
Dr. Scholl's Athlete's Custom-Fit Orthotic Inserts for Flat Feet
Price: $
These inserts are designed to work great in athletic shoes but many golfers have found success with them on the course as well. They feature a deep heel cup which helps stabilize your foot while cushioning it with gel to reduce impact shock. The shape of these insoles is also very natural which means that they are easy to wear without any major discomfort or breaking in period necessary. Additionally, these are one of the most affordable options out there so if you're really having trouble finding something that works these should be your first stop.
---
Sof Sole Airr Orthotics for Plantar Fasciitis
Price: $$
The Sof Sole Airr orthotic insoles are very affordable and work great as a replacement to over the counter products like Dr. Scholl's because of their stability and pain alleviation capabilities. Another benefit of this product is that it can be worn in any type of shoe or cleat so you don't have to worry about buying different inserts to wear with your performance golf shoes, athletic golf shoes or if you need something to wear with your everyday casual footwear.​​​ ​
---
Dr. Scholl's Pain Relief Orthotics For Plantar Fasciitis are a good choice for moderate cases of plantar fasciitis. They have been made using shock guard technology to offer pain relief. The reinforced heel and arch cushion help in shock absorption. The best thing about these insoles for plantar fasciitis is that they can be trimmed to fit your shoes.
Pros
They are light in weight with springy cushioning
The heel cushioning is quite comfortable
They can be sized to fit one's shoes
Cons
The sizing can run a bit small
They are don't offer enough support for people with fallen arches
They are recommended for people who do casual walking and for people with light cases of plantar fasciitis. They are not recommended for fallen arches or flat feet.
Nazaroo Orthotic Insoles For Flat Feet are the best insoles for plantar fasciitis because they are quite affordable and they feature antibacterial materials. The best thing about them is that they come in three colors, so you have a bit of a choice. The best thing about these plantar fasciitis inserts is that they have latex cushioning for shock absorption.
The deep heel cradle comes in very handy for added stability. The arch support has been designed to help in minimizing the pressure that's placed on the foot. The antimicrobial composite materials help in keeping the feet dry and cool. The bonus feature here is that they can fit in almost all footwear.
Pros
They are of good quality which translates to durability
They fit in almost all shoes with little or no slipping at all
These insoles are quite comfortable with good cushioning
They offer firm support which translates to great heel positioning
Cons
They can color leak especially on bright colored or white socks
They might uncomfortable because the cushioning might be a little too firm
They don't always fit into narrow or small women's shoes meaning they are not the best for women unless women with big feet
They are best recommended for people with fallen arches and flat feet. They are not recommended for people with small feet.
FAQ
What golf shoes do podiatrists recommend?
many podiatrists recommend golf shoes that have a spikeless design and are made from lightweight materials. Shoes like these allow you to move more easily and comfortably on the green, and they also help to prevent injuries caused by excessive wear and tear.
Podiatrists also recommend shoes that have a wide toe box and plenty of cushioning. It is also important to ensure that the shoe fits properly and does not cause any blisters or discomfort.
There are a variety of golf shoes on the market that meet these requirements. Some popular brands include Nike, Adidas, Footjoy, and Callaway. When shopping for golf shoes, it's important to try them on and make sure they fit well. The heel should not slip off the back of the shoe and there should be minimal space between the toes and the front of the shoe.
Podiatrists generally recommend shoes that have a wide toe box and plenty of cushioning. It is also important to ensure that the shoe fits properly and does not cause any blisters or discomfort.
Does golf aggravate plantar fasciitis?
Yes. It's possible that golf shoes, which have a rigid heel and are designed to be worn when walking on hard surfaces, may aggravate plantar fasciitis. In addition, playing golf frequently can lead to increased wear and tear on the plantar fascia.
Many people with plantar fasciitis find relief by switching to shoes with a softer heel and more flexible sole.
You may also want to try using inserts or orthotics in your golf shoes to provide extra support for your feet. Another suggestion is to take short breaks throughout your round of golf to give your feet a rest.
Which golf shoes offer the best arch support?
There are a few different factors to consider when looking for the best golf shoes for arch support. For starters, you'll want to find a shoe that fits snugly and offers good traction on the green. You'll also want to make sure that the shoe has a good amount of arch support, as this will help prevent pain and fatigue in your feet during long rounds of golf.
If you're looking for a specific brand name, Nike and Adidas both offer some great shoes with excellent arch support. However, any good-quality golf shoe should provide adequate arch support for most players. So don't be afraid to experiment until you find the pair that feels best on your feet.